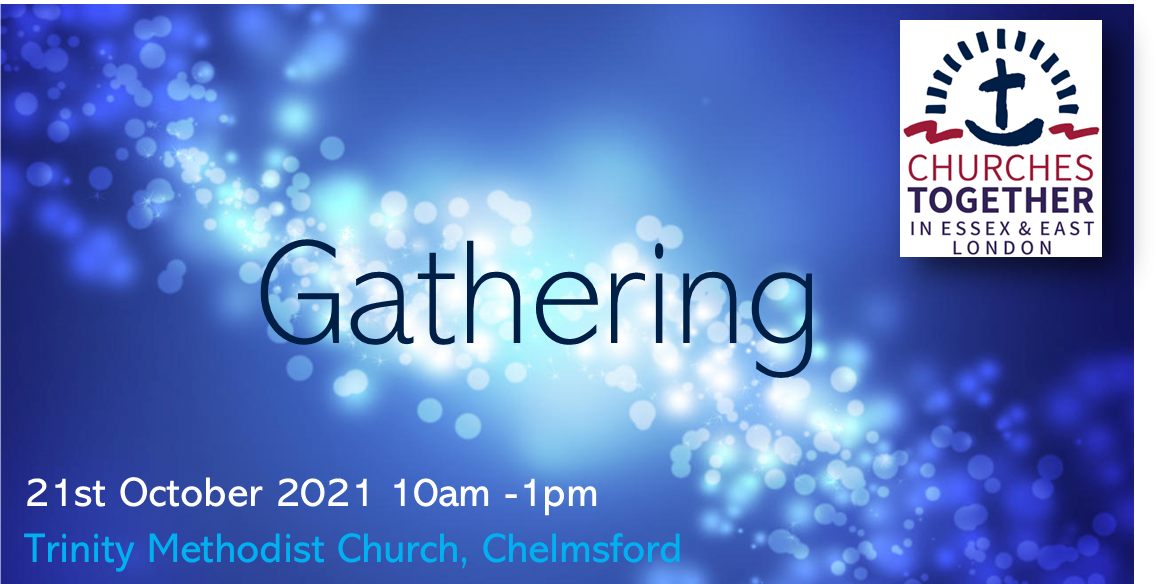 The Gathering - Thursday 21st October
Do come along next Thursday 21st October and join us at our Gathering at Trinity Methodist Church in Chelmsford.
Join us for a time to learn from and inspire each other to work together as churches in our own towns and cities, this years theme is "Emerging Together"
Programme:
10:00 Welcome from Bishop Roger of Colchester, followed by a short time of Worship
10:25 Main Speaker: Canon Dr Ellen Louden author of 12 Rules for Christian Activists, also Director of Social Justice for Diocese of Liverpool and Canon Chancellor at Liverpool Cathedral
10:50 Mick Mednick – Barking Christians Unite
11:10 Break - Refreshments will be served
11:30 Workshops - depending on numbers attending a choice of workshops will be provided
12:00 Essex Faith Covenant (back in the Main Church)
12:10 Transforming Essex
12:20 Wrap up speech
12:30 Lunch
13:00 Depart
Please book your free space now: https://www.eventbrite.co.uk/e/cteel-annual-gathering-2021-tickets-170141041435
The event will include a buffet lunch, is free to attend and all are welcome, the event is aimed at Church leaders and members of Churches Together/Unity groups across Essex and East London.
We would ask you to consider taking a lateral flow test before arriving at the event and bring a mask as you may be asked to wear one when moving round the building. We may also open additional windows for ventilation so please dress appropriately. Hand sanitiser will be available in various locations around the building.
Any questions please get in touch.
---